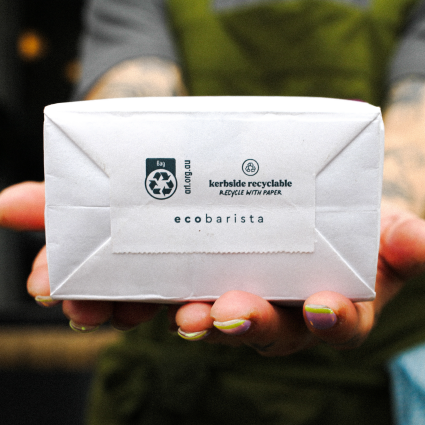 We are more than happy to unveil our new kerbside recyclable coffee bags made in partnership with EcoBarista. Our exceptionally roasted coffee has been housed in a few different looks over the years as we constantly tinker and evaluate the best option for our coffee and for mother earth. We are confident that our new packaging is the best option yet, below is a FAQ that we hope will fill you in on some of the why's.
Why paper? With the collapse of soft plastic recycling in Australia we needed a solution that was already part of our customers day to day, paper recycling is one of the most widely used forms of waste disposal in this country and results in far less landfill.
Is the bag lined? Our new bags have allowed for a massive reduction in plastic - something we can be all be proud of! By using only a very thin plastic lining that allows the bag to be sealed we can safely place this bag in paper recycling where the layers will be separated and processed down the line.  
Why not a compostable bag? Good question - we ummed and ahhed over this one for a while but ultimately chose recyclable bags due to the accessibility for everyone, composting is great, we love it, but a lot of people don't compost and unfortunately there are varying degrees of how well compostable packing breaks down in home compost vs industrial facilities. With these reasons in mind we felt recyclable paper would ultimately lead to a better outcome.
No seal? How come? As part of our goal to reduce plastic use the ziplock seal had to go, we know this will take a little change in behaviour but honestly it's no biggie. Once you've opened your bag aim to get it into a sealed container as soon as you can, this will maintain freshness for a long time.
Do I need to peel the label off? Nope, you don't, it's paper too! And further more the inks printed on the label contain no Volatile Organic Compounds (VOC's).
How should I store my coffee? Once opened we recommend getting your coffee into an air tight container in a cool, dry place out of direct sunlight. Short of that rolling the bag down and either clipping or using a rubber band is a lesser but still decent option.